Please note: this is an old article
It was published in August 2016, so the information may be out-of-date.
Some of Greater Shepparton's largest employers are teaming up to present the 2016 Corporate Pedometer Challenge, to improve the health and wellbeing of their staff and the wider community and raise much-needed funds.
In a unique partnership, Greater Shepparton City Council, Shepparton Retirement Villages and GV Health have joined forces to run the Corporate Pedometer Challenge during the months of October and November 2016, and are now throwing the challenge to other local employers to get involved.
Individuals or teams of four to six people from any organisation can enter the challenge simply by registering and paying their entry fee of $20 per person online.
Entry gives each participant a pedometer to measure their steps, and access to the website to clock their progress.
There will be weekly prizes for individuals and teams leading the challenge for the most amount of steps clocked. The organisation with the most steps clocked in their name at the end of the challenge will win the Corporate Challenge Cup.
Part of signing up is nominating one of three charities to donate part of your entry fee to:
Shepparton Villages is raising money for the new 120-bed aged care development
Greater Shepparton City Council has nominated The Community Fund as its charity of choice
GV Health is raising funds towards beds as part of the

"

Get in

bed

with

GV

Health"

campaign.
"It started as a project to help keep our workforce fit and healthy. Our staff and their health are extremely important to us all as employers, and this is a very easy way to get everyone moving and focussed on their health," Shepparton Villages CEO Kerri Rivett said.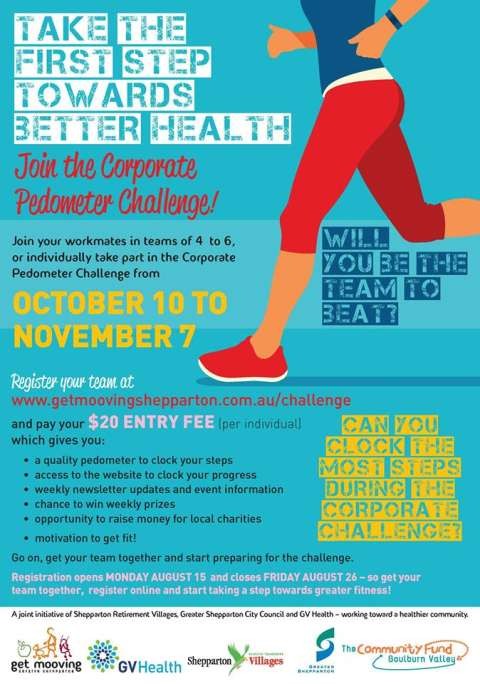 The challenge kicks off on 10October 2016 and runs until 7 November 2016, with registrations open on 15 August 2016 and close on 26 August 2016. It is important to get your team registered during that time so orders can be placed for the pedometers, which will be distributed at Aquamoves once registrations are closed.
"GV Health is committed to supporting staff to maintain a healthy lifestyle and work/life balance. I am delighted that our staff will take part in this challenge to demonstrate that physical activity can be fun and social," said Ms Fiona Brew, Interim CEO, GV Health.
The launch of the challenge has started some friendly rivalry between local organisations.
"I'm pretty confident Greater Shepparton City Council employees will do us proud and fly the flag for the GV Community Fund, and our small team will be clocking our steps as well. We would encourage all local organisations to get involved as it's a great way to increase fitness and have a bit of fun," Community Fund CEO Cheryl Hammer said.
Each of the three organising employers have committed to running events over the course of the challenge to provide extra opportunities to get step counts up. Details will be released closer to the Challenge start date.